Copyright@VENOUS UPDATE. All Rights Reserved.

Overall, the treatment of varicose veins can be divided into three main categories:
1) Conservative treatment, which includes lifestyle adjustments, medication, and compression therapy;
2) Destructive treatment, which includes sclerotherapy, stripping surgery, endovenous thermal ablation, etc.;
3) Hemodynamic-based treatment called CHIVA (Conservative Hemodynamic Valvular Insufficiency Ambulatory) that aims to preserve the veins.
CHIVA is the least traumatic and least painful treatment among all minimally invasive procedures. CHIVA is an abbreviation for "Cure Conservatrice et Hemodynamique de l′Insufficience Veineuse en Ambulatoire" in French, and this treatment concept was established by French doctor Franceschi.
CHIVA surgery diverges from the past principles of destructive and ablative surgeries by performing blood flow correction based on a detailed analysis of venous hemodynamics before the procedure.
The advantages of CHIVA are quite evident:
1) It preserves the intact veins, reducing trauma, and allowing them to be used as vascular graft materials for future diseases.
2) The surgery can be performed under local anesthesia, and patients can walk immediately after the procedure without the need for hospitalization.
3) It avoids potential complications such as subcutaneous hematomas and nerve damage that may occur with other surgeries.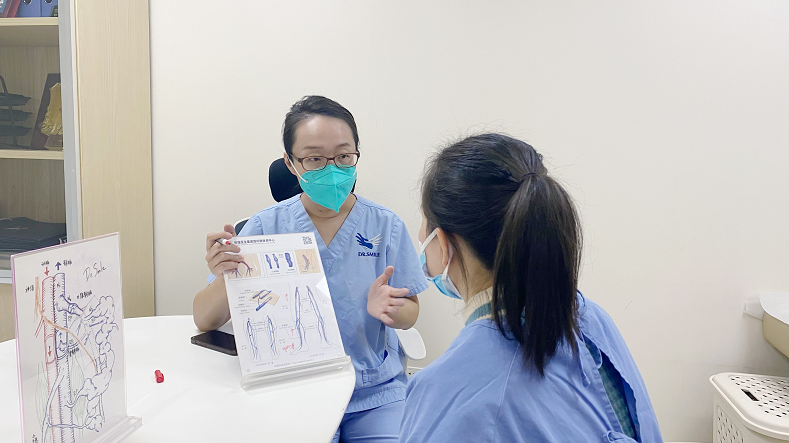 Dr. Smile Medical Group is the largest chain of vein centers in Asia, founded in 2014 and headquartered in Shanghai. With a presence in 13 cities across China, including Beijing, Guangzhou, and Shanghai, the group has established itself as a pioneer in the use of cutting-edge technology for the diagnosis and treatment of various types of varicose veins. Dr. Smile's personalized approach includes a hemodynamic assessment and a focus on different types of varicose veins, ensuring that each patient receives customized treatment. The group is also responsible for the CHIVA global certification and training program, demonstrating its dedication to excellence in the field of venous care. With thousands of patients treated every year, Dr. Smile has become a leading authority in the field, and its experts are regularly invited to participate in CME and global venous forums to share their expertise and insights with fellow practitioner.