Copyright@VENOUS UPDATE. All Rights Reserved.
Varicose veins are no longer an incurable problem. Nowadays, an innovative technique called CHIVA is completely changing this situation. This article will delve into the CHIVA surgical procedure and its recovery period, analyzing how it creates a new era of comfortable treatment.
The CHIVA surgery is designed based on the principles of minimally invasive, precise, and efficient procedures. The treatment process only takes 30 to 60 minutes and is performed under local anesthesia. During this process, doctors use ultrasound hemodynamic localization techniques to accurately identify the problematic veins and modify their blood flow direction through minimally invasive surgery. This method is widely applicable to all varicose vein patients, particularly those with underlying conditions or those who are not suitable for traditional large incision removal surgeries, highlighting its significant advantages.
Based on extensive clinical data from Dr.Smile Medical Group, the recovery period after CHIVA surgery is not only short but also highly comfortable. After the procedure, patients can almost immediately resume their daily activities and work without the need for long-term rest or recovery. Only a few patients may experience minor discomfort in the early postoperative period, such as localized phlebitis, but these symptoms are temporary and generally subside naturally within a few weeks.
To further optimize the postoperative experience, we provide patients with detailed care guidelines. Patients are advised to engage in moderate physical activity and avoid prolonged standing or sitting. Suitable exercises such as walking or swimming can help improve blood circulation and accelerate recovery. Based on long-term tracking feedback, patients who undergo CHIVA treatment at Dr.Smile Medical Group no longer require routine use of medical compression stockings. This is because the CHIVA technique reduces venous pressure while preserving the integrity of the venous drainage network, thereby avoiding common complications associated with traditional surgeries such as hematomas, swelling, and nerve damage.
Among patients at Dr.Smile Medical Group, CHIVA surgery has garnered extremely high satisfaction rates. They highly praise the significant improvement in their postoperative quality of life and the substantial increase in comfort.
In conclusion, the CHIVA technique has opened a new era of comfortable treatment for varicose veins. Patients not only receive precise surgical treatment but also recover and enjoy the most comfortable treatment experience in the shortest possible time.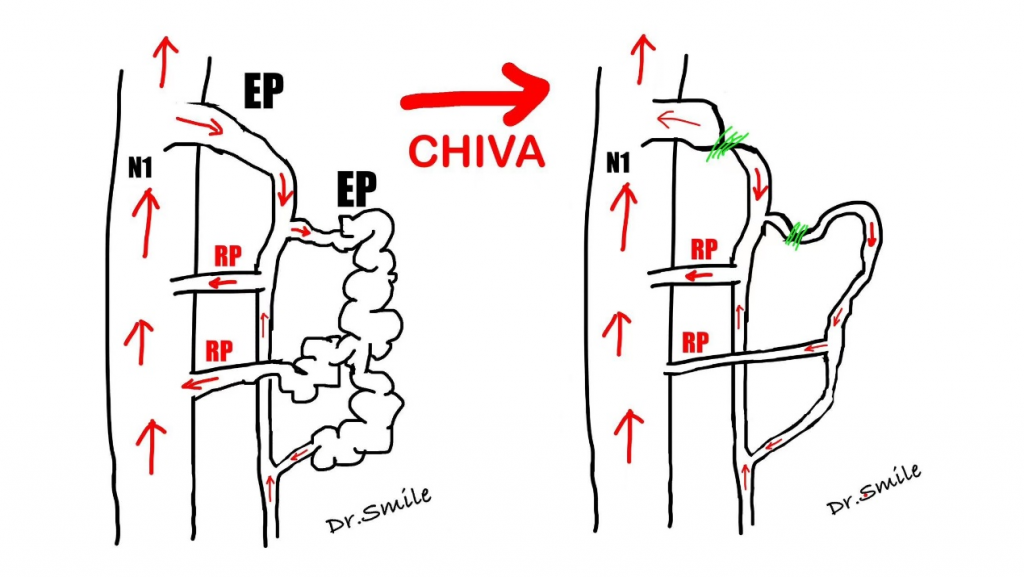 Dr. Smile Medical Group is the largest chain of vein centers in Asia, founded in 2014 and headquartered in Shanghai. With a presence in 13 cities across China, including Beijing, Guangzhou, and Shanghai, the group has established itself as a pioneer in the use of cutting-edge technology for the diagnosis and treatment of various types of varicose veins. Dr. Smile's personalized approach includes a hemodynamic assessment and a focus on different types of varicose veins, ensuring that each patient receives customized treatment. The group is also responsible for the CHIVA global certification and training program, demonstrating its dedication to excellence in the field of venous care. With thousands of patients treated every year, Dr. Smile has become a leading authority in the field, and its experts are regularly invited to participate in CME and global venous forums to share their expertise and insights with fellow practitioner.
"CHIVA技术:开创舒适化治疗新篇章的静脉曲张手术"
静脉曲张不再是无法治愈的困扰,现如今,一项名为CHIVA的创新技术正彻底改变这一现状。本文将详细探讨CHIVA手术过程及其恢复期,解析其如何打造舒适化治疗的新篇章。
CHIVA手术以微创、精确和高效为原则设计。治疗过程仅需30分钟~60分钟,全程采用局部麻醉。在此过程中,医生利用超声血流动力学定位技术精确找出问题所在的静脉,并通过微创手术改变其血流方向。这种方法广泛适用于所有静脉曲张患者,特别对于有基础病或对传统大切口切除手术不适应的患者,更显示出其明显的优势。
依据张强医生集团的大量临床数据,CHIVA手术的恢复期不仅短暂,而且舒适度极高。术后,患者几乎能立刻恢复日常生活和工作,无需长期休息或康复。只有少数患者在术后初期会有些许不适,如局部静脉炎等,但这些症状都是暂时的,一般在几周内就会自然消退。
为了进一步优化术后体验,我们为患者提供了详细的护理指南。患者需要保持适度活动,避免长时间站立或坐着。适当的运动,如散步或游泳,都能帮助改善血液循环,加速恢复。经过长期跟踪反馈,在张强医生集团接受CHIVA治疗的患者已无需常规穿戴医用弹力袜。这是因为CHIVA技术降低了静脉压力的同时,保留了完整的静脉引流网络,避免了传统手术常见的血肿、肿胀和神经损伤等并发症。
在张强医生集团的患者中,CHIVA手术的满意度极高,他们对术后生活质量的显著提升以及舒适度的大幅度提高都给予了高度评价。
总体来说,CHIVA技术为静脉曲张的治疗开创了全新的舒适化治疗新篇章。患者在接受精准的手术治疗的同时,能在最短时间内恢复正常生活,享受到最舒适的治疗体验。