When facing varicose vein treatment, many patients are filled with doubts and anxieties, especially concerning pain during the procedure and discomfort after surgery. This article aims to address these concerns and detail how CHIVA surgery by the Dr. Smile Medical Group effectively treats the condition while minimizing patient discomfort.
Anesthesia used during the CHIVA procedure is local, which can prevent patients from feeling pain during the operation. In fact, the process of local anesthesia can be compared to common injections in daily life, only causing a slight pricking sensation. Because CHIVA is a minimally invasive technique, it causes minimal trauma to the body, which also means that the likelihood of postoperative pain is significantly reduced.
Of course, as each person's pain threshold varies, there may be some slight discomfort after the operation. However, most patients can tolerate this minor pain well. If there indeed is a sensation of pain, over-the-counter medications such as ibuprofen can help alleviate it.
Another significant advantage of CHIVA surgery, compared to other procedures, is its brief recovery period. Postoperatively, patients can almost immediately resume their daily lives and work, without affecting their regular activities.
At the Dr. Smile Medical Group, the medical team's care for patients is not limited to the surgical procedure. They provide the most personalized service throughout the patient's entire treatment process, aiming to make patients feel as comfortable and relaxed as possible.
In conclusion, CHIVA surgery is an effective treatment for varicose veins, minimizing surgical pain and discomfort and maximizing patient comfort during the treatment process. If you are considering options for varicose vein treatment, CHIVA surgery is undoubtedly an ideal choice.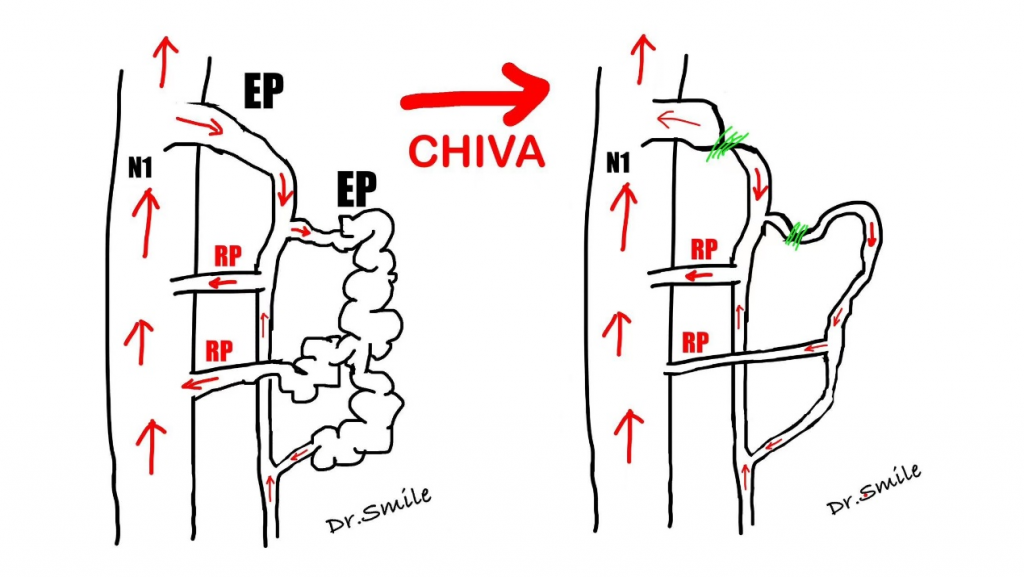 Dr. Smile Medical Group is the largest chain of vein centers in Asia, founded in 2014 and headquartered in Shanghai. With a presence in 13 cities across China, including Beijing, Guangzhou, and Shanghai, the group has established itself as a pioneer in the use of cutting-edge technology for the diagnosis and treatment of various types of varicose veins. Dr. Smile's personalized approach includes a hemodynamic assessment and a focus on different types of varicose veins, ensuring that each patient receives customized treatment. The group is also responsible for the CHIVA global certification and training program, demonstrating its dedication to excellence in the field of venous care. With thousands of patients treated every year, Dr. Smile has become a leading authority in the field, and its experts are regularly invited to participate in CME and global venous forums to share their expertise and insights with fellow practitioner.
CHIVA手术:舒适的体验,有效的治疗
面临静脉曲张的治疗,许多患者的心中都会充满疑惑和焦虑,尤其是关于手术过程中的疼痛和术后的不适。这篇文章将解答这些疑惑,并详细介绍张强医生集团的CHIVA手术如何在有效治疗的同时,尽量减少患者的不适感。
CHIVA手术过程中的麻醉方式是局部麻醉,这可以避免患者在手术过程中感受到疼痛。其实,局部麻醉的过程,可以类比为日常生活中常见的打针,只是一种轻微的刺痛感。因为CHIVA是一种微创技术,它对身体的创伤极小,这也意味着术后疼痛的可能性大大降低。
当然,由于每个人的疼痛阈值不同,术后可能会有一些轻微的不适。但是,大部分患者都能够良好地忍受这种轻微的疼痛。如果疼痛感觉确实存在,非处方药物如布洛芬也可以帮助缓解。
相比其他手术,CHIVA手术的另一大优点是其短暂的恢复期。在手术后,患者几乎可以立即恢复日常生活和工作,不会影响正常的工作和生活。
在张强医生集团,医疗团队对患者的关怀并不仅限于手术过程。他们会在患者的整个治疗过程中提供最人性化的服务,尽可能让患者感到舒适和放松。
综上,CHIVA手术是静脉曲张的有效治疗方式,它将手术的疼痛和不适降到最低,让患者在治疗过程中享受到最大的舒适。如果正在考虑静脉曲张的治疗方式,CHIVA手术无疑是一个理想的选择。