As summer arrives, the hot weather can often intensify the symptoms of varicose veins. However, by implementing appropriate self-care measures and engaging in suitable activities, you can effectively manage these symptoms. The team of experts at Dr. Smile Medical Group offers the following comprehensive advice to help you alleviate the symptoms of varicose veins and enjoy the pleasures of summer:
1. Swimming
Swimming is an excellent low-impact exercise that can both work out the muscles throughout your body and improve your cardiovascular fitness, contributing to improved venous return. The water's pressure can support your body, relieving pressure in your legs, which can in turn reduce leg swelling and discomfort. For patients with varicose veins, swimming is an ideal summer activity.
2. Walking
While the summer heat might deter you from going outside, the temperature in the morning or evening is relatively cool, making these ideal times for a walk or brisk walk. This mild aerobic exercise can stimulate circulation in your legs while also allowing you to enjoy the beauty of nature. Be sure to wear comfortable shoes, and use a sun umbrella or hat as needed.
3. Yoga
Yoga is a holistic exercise method that can be greatly beneficial for managing the symptoms of varicose veins. In particular, yoga postures that elevate the legs, such as leg lifts, can help promote blood flow back to the heart and alleviate venous stasis in the lower limbs. Moreover, yoga is also known for its significant stress-reducing and relaxing effects.
4. Hydration
Hot summer weather can easily lead to dehydration, which can affect blood circulation and exacerbate varicose vein symptoms. Therefore, it is vital to maintain adequate hydration. Try to carry a bottle of water with you, so you can hydrate at any time, whether you're at home or out and about.
5. Wearing Compression Stockings
Wearing compression stockings is an effective way to relieve the symptoms of varicose veins. These stockings can provide gentle compression to your legs, aiding in the return of blood to your heart, and reducing swelling and discomfort in your legs. If you find compression stockings too warm in the summer, you can opt for thinner styles or wear them during the cooler times of the day, such as mornings and evenings.
It should be emphasized that while the above activities and self-care tips can be helpful for many patients with varicose veins, everyone's situation is unique. Before you start a new exercise or modify your lifestyle, we recommend that you consult with a doctor or healthcare professional.
At Dr. Smile Medical Group, we are committed to providing the highest quality of treatment and care for patients with varicose veins. Through these recommendations, we hope you can comfortably manage your varicose vein symptoms during the summer and enjoy a healthy, happy summer life.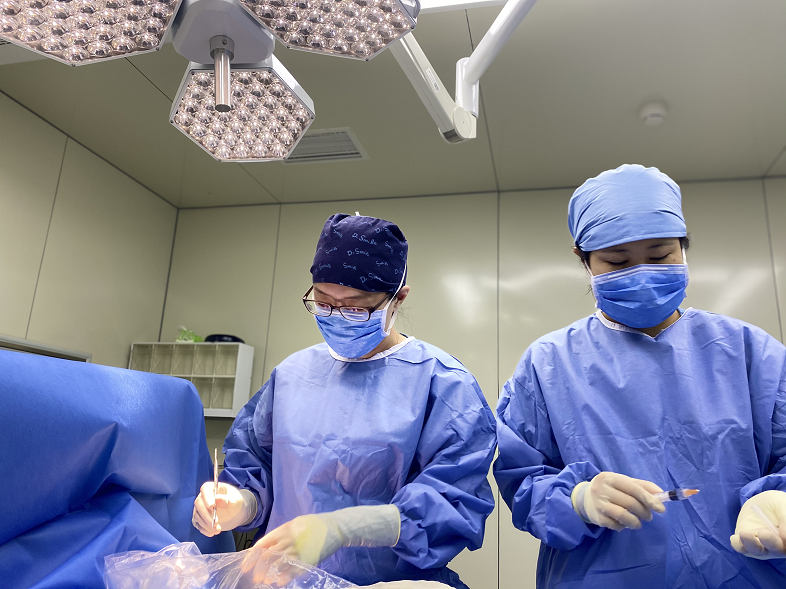 Dr. Smile Medical Group is the largest chain of vein centers in Asia, founded in 2014 and headquartered in Shanghai. With a presence in 13 cities across China, including Beijing, Guangzhou, and Shanghai, the group has established itself as a pioneer in the use of cutting-edge technology for the diagnosis and treatment of various types of varicose veins. Dr. Smile's personalized approach includes a hemodynamic assessment and a focus on different types of varicose veins, ensuring that each patient receives customized treatment. The group is also responsible for the CHIVA global certification and training program, demonstrating its dedication to excellence in the field of venous care. With thousands of patients treated every year, Dr. Smile has become a leading authority in the field, and its experts are regularly invited to participate in CME and global venous forums to share their expertise and insights with fellow practitioner.

张强医生集团专家给静脉曲张患者的夏季保健与活动指南
夏季到来,炎热的天气往往会使静脉曲张病患者的症状更加明显。然而,通过采取适当的保健措施和活动,您可以有效地缓解这些症状。张强医生集团的专家团队为您提供以下详细的建议,帮助您舒缓静脉曲张症状,享受夏日的乐趣。
1. 游泳
游泳是一项极佳的低冲击力运动,既能锻炼全身肌肉,也能改善心肺功能,从而有助于静脉血液的回流。水中的压力能够支撑身体,减轻腿部的压力,从而减轻腿部肿胀和疼痛。对于静脉曲张病患者来说,游泳是一项理想的夏季活动。
2. 健走
尽管炎热的夏天可能会让您不愿意外出,但早晨或傍晚时的温度相对凉爽,这时进行散步或健走是个不错的选择。这种轻度的有氧运动可以促进腿部血液循环,同时也能帮助您欣赏到大自然的美丽。请确保穿着舒适的鞋子,并在必要时使用遮阳伞或帽子。
3. 瑜伽
瑜伽是一种全身锻炼方式,对于改善静脉曲张病症状十分有益。特别是那些能够提高腿部的瑜伽动作,如腿部上举,它能帮助促进血液流向心脏,减轻下肢的血液滞留。同时,瑜伽对于减轻压力和放松身心也有显著的效果。
4. 饮水充足
夏季炎热天气容易引起身体脱水,这会影响血液循环,增加静脉曲张的症状。因此,保持充足的水分摄入是非常重要的。尝试携带一瓶水,无论您在家里还是在外面,都可以随时补充水分。
5. 穿着压力袜
穿着压力袜是缓解静脉曲张症状的一种有效方式。压力袜可以提供对腿部的温和压迫,帮助推动血液流回心脏,减少腿部的肿胀和疼痛。如果你在夏天觉得压力袜太热,你可以选择穿薄一点的款式,或者在早晨和晚上的时候穿。
需要强调的是,虽然以上的活动和保健建议对许多静脉曲张患者都有帮助,但每个人的情况都是独一无二的。在开始新的运动或修改生活方式之前,我们建议您咨询医生或者医疗专业人员。
在张强医生集团,我们致力于为静脉曲张患者提供最优质的治疗和护理。通过这些建议,我们希望您能在夏季舒适地管理您的静脉曲张症状,享受健康、愉快的夏日生活。