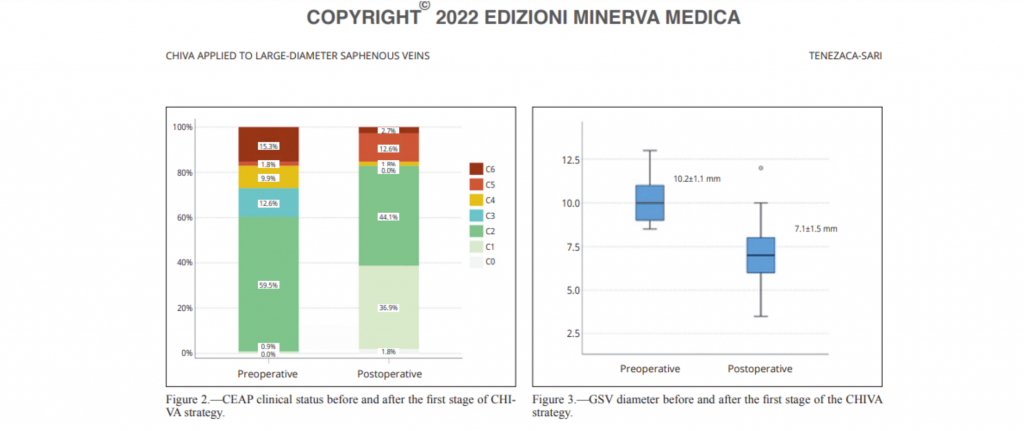 Background:
The CHIVA (Cure Conservatrice et Hemodynamique de l'Insufficience Veineuse en Ambulatoire) is a conservative outpatient treatment strategy for chronic venous disease (CVD) that preserves the superficial venous system. A modified two-stage strategy is employed for patients with a great saphenous vein (GSV) diameter ≥9 mm, aiming to decrease the risk of symptomatic superficial vein thrombosis (SVT). The risk of complications is higher when both stages are performed simultaneously.
Methods:
This retrospective observational study involved 111 patients with CVD and a GVS diameter ≥9 mm treated with the two-stage CHIVA strategy between January 2010 and December 2019. The first stage targeted the interruption of the main reflux escape point (incompetent saphenofemoral junction), thereby reducing venous pressure and achieving a sufficient reduction in GSV diameter. The second stage, if required, involves the disconnection of secondary reflux exit points (incompetent saphenous tributaries), posing a lower risk of symptomatic SVT when patients do not exhibit significant clinical improvement. Reductions in GSV diameter, postoperative complications, and clinical improvements were analyzed.
Results:
The study comprised 60 men (54.1%) and 51 women (45.9%) with an average age of 57±11.9 years. All patients underwent the first surgical stage, with 77.5% (86 patients) having the interruption of the saphenofemoral junction as the sole procedure. The second stage was performed on 25 patients (22.5%). The average preoperative GSV diameter was 10.2±1.1 mm, which reduced to 7.1±1.5 mm post the first surgery. Six patients (5.4%) experienced recurrence due to recanalization of the reflux point, and 16 patients (14.4%) developed SVT, of which 12 cases (10.8%) were symptomatic.
Conclusions:
Interrupting the main reflux escape point as a singular procedure in patients with a GSV diameter ≥9 mm resulted in a notable reduction in diameter and significant clinical improvement in nearly 80% of the cases.
Key Words: Varicose veins; Saphenous vein; Blood circulation
For a more detailed understanding and insights, readers are encouraged to read the original article here.